Wrestling Prep is a Comprehensive and Bi-Coastal training and competitive organization for wrestlers and MMA Fighters of all Ages and Associations. Founded in 2005 at Stanford University and led by Coach Carolyn Wester, Wrestling Prep has established itself as a World Class provider of every aspect of training. Known for it's inventive and leading – edge methodologies, Wreslting Prep exponentially advances an athlete's competitive career. Wrestling Prep's "Non-Partisan" moniker represents the belief that any Athlete, regardless of educational institution, club affiliation or training organization may participate at any Wrestling Prep Event.
---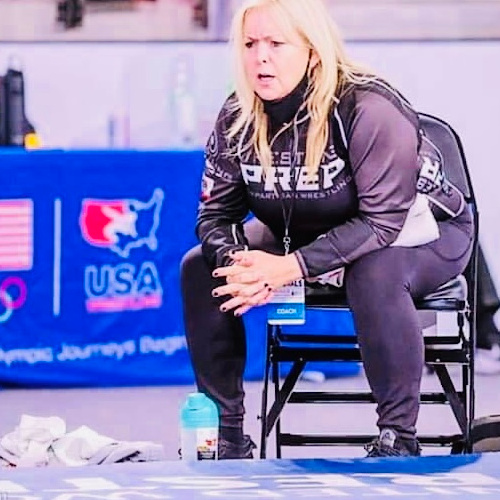 Carolyn Wester is a World Recognized Professional Combat Sports Coach specializing in Wrestling at all Levels, and for Competitive MMA. Her success and influence reaches throughout the United States, Europe, South America and Middle East. Her coaching has succeeded at the highest level of men's wrestling, both in the United States and Internationally, and she has been the Chief Corner or Corner in the UFC, Bellator, and Invicta in the United States, South America and Europe. With a unique and highly successful approach and perspective, she is often considered the missing component for success in wrestling and combat sports.
Coach Wester stands alone as a person of her gender to achieve the success as a Coach she has at every level of Competitive Wrestling and Competitive MMA in promotions such as the UFC, Bellator, etc. By many, she is considered to have surpassed most all coaches in her eighteen year career and is often heralded at the highest level of Combat Sport coaches active today.
---
Andrew Morgan is a career competitive wrestler currently competing on the Olympic Ladder at the International level.
In 2013, Drew began training at Wrestling Prep under Coach Wester in California and has continued to date. He is affiliated with the US Naval Academy RTC in Annapolis, MD and trained at Spartan Combat RTC as an Athlete and Coach for two years prior.
Drew has a Bachelor of Business Administration (BBA): Trust and Wealth Management, Campbell University, and a Master of Business Administration (MBA), Campbell University and a Masters of Accounting (MACC), Campbell University. He is 3X Academic All American, first team NWCA All-American, NCAA Covid All-American, Southern Conference Champion 2020, 2X California State Placer, NHSCA Senior All American, and Flo Nationals All American. Drew serves as the Treasurer of the Friends of Wreslting Prep 501(c)(3) organization.
Drew discusses the impact of training with Wrestling Prep on his career, and Coach Wester's NEW online courses on Body Leveraging.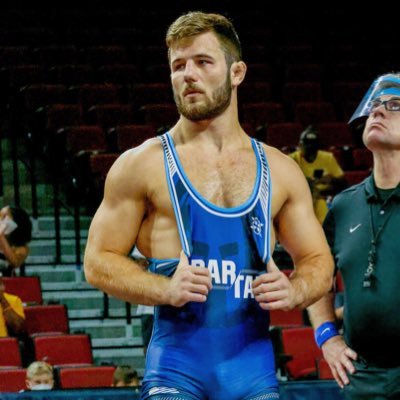 ---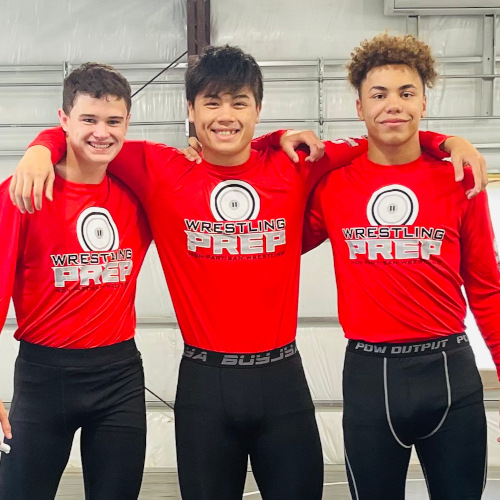 Michael Dinh has served as the Head Assistant Coach at Wrestling Prep since January 2021. He excels at coaching Body Leveraging, and is a dedicated and effective Corner Coach. For two years he served as the Head Assistant Wrestling Coach at Evergreen Christian School.
Michael is an Amateur MMA Fighter with intent to turn Pro in the Immediate Future. He is coached by Carolyn Wester and the American Kickboxing Academy.
---
Shannon Williams has been participating as a Coach at Wrestling Prep since 2020. She is an experienced entrepreneur having 7+ year as a business owner. In addition, she has been a working advocate and board member of several non profits that perpetuate youth sports and inclusion.
Shannon has been an Assistant Coach at Wrestling Prep since January 2022. In addition, Coach Williams serves at Chairman of the Board of the 501(c)(3) Friends of Wrestling Prep.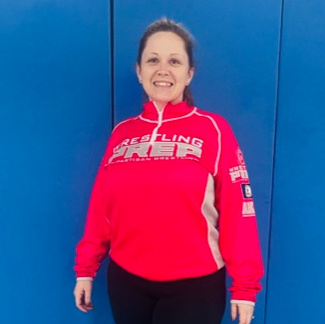 ---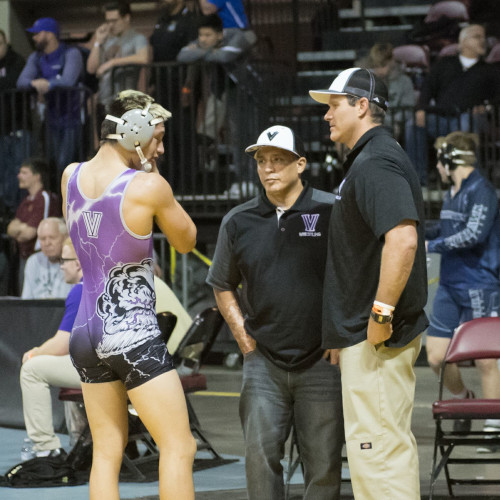 Bryce Wolcott is a high school and college science teacher. He is a lifelong-learner, with degrees in Integrative Biology (M.A. UC Berkeley), Secondary Education (M.Ed. Nothern Arizona University), and Medical Nutrition (M.S. Arizona State University). Bryce is a Certified Strength and Conditioning Specialist (CSCS) and a Power Athlete certified coach. He works part-time as a strength coach and nutritionist at a private medical facility.
Bryce has been coaching wrestling for 19 years. He has been taking his athletes to Wrestling Prep since 2013, and serves as the Executive Producer of Wrestling Prep's Online Courses.
---
At the inception, Wrestling Prep's driving goal was to be ancillary support in athletes obtaining acceptance to college. It is still prevalent today. Taking an athlete and giving them access and skill sets to achieve in competition for both college acceptance and wrestling is foremost in the decision making and offerings of Wrestling Prep. Incorporation of a test preparation course and classes in Wrestling Prep training events, trips to visit academic institutions and access to Wrestling Prep's and Carolyn Wester's relationships with college processes, liaisons and coaches is available to everyone.

Below is a small sampling of our successful recruitments to colleges.
Accepted Offers
Aaron Perez – San Francisco State University
Adam Velasquez – California Baptist University
Adan Garcia – Wabash College
AJ Murabito (Saratoga HS) – University of Pennsylvania
Alan Yen (Saratoga HS) – Stanford University
Albert Gaxiola (Arch Bishop Mitty) – Lehigh University
Albert Landeros – North Dakota State
Alec Fraser (Livermore HS) – University of North Carolina Greensboro
Alec McKenna (New Trier) – Northwestern University
Alex Kiester – George Mason University
Alexis Santana – Wilkes University
Allen Kokilananda – Wilkes University
Andrew Morgan – Campbell University
Andrew Morgan (Fountain Valley) – Cal Poly
Angel Garcia (Diamond) – University of North Carolina Greensboro
Angel Velasquez (PIttman) – Northern Illinois University
Angelo Martinoni – University California Bakersfield
Anna Naylor (Lynnbrook) – Jamestown University
Anthony Wesley (Jesuit) – Iowa State
Anthony Hernandez (Vacaville) – Cal Baptist University
Anthony Martin – United States Coast Guard Academy
Araad Sarrami (Riverside) – Duke
Arash Bastanfard (Lynbrook HS) – University of North Carolina Greenboro
Arraad Fisher – Duke University
Arrmond Melina (Firebaugh) – Cal Baptist University
Austin Flores (Clovis North) – Stanford University
Benn Lunn – Minnesota University
Borris Murabito – Brown University
Brady Green – Skyline College
Brandon LeFore (Sobrato) – Washington & Lee University
Brandon Vu (Rodriquez) – San Francisco State
Brenda Mendola (Allisal) – Southwest Oregon State
Brian Engdahl (Granada HS) – Oregon State HS
Brian Santana (Prospect) – New York University
Brian Sergi (College Park HS) – Appalachian State University
Brooks Martino (Robinson Secondary School) – University of Pennsylvania
Cady Chessin (Los Gatos) – Menlo College
Caleb Tanner Cook – Oklahoma State University
Calvin Hawkes (Los Gatos HS) – New York University
Carlos Alvarez (Folsom) – Sacramento City College
Carson Ayres – Queens College
Charles Small – Hofstra University
Chase Saldate – Michigan State University
Christian Murabito (Saratoga) – Robinson
Christian Pagdelio – Arizona State University
Christian Pagdilao (Santiago HS) – Michigan State University
Christopher Delozza – Fresno State University
Clayton Murabito – San Francisco State University
Cody Rodebaugh (San Lorenzo Valley HS) – University of North Carolina Greensboro
Colin Navickas – Stevens Institute of Technology
Colston DiBlasi – George Mason University
Colton Stone – Charles Small – Hofstra University
Connor Crinigan – Rochester University
Connor Prince (Palm Harbour) U.S. Naval Academy
Cooper Newby (Palo Alto HS) – Colorado School of Mines
Corbin Lee (Mission San Jose HS) – New York University
Dainon Kappes – University of Maryland
Dalton Lakmann – South Dakota State University
Dane Stevens (Scots Valley HS) – Lehigh University
Daniel Cota (Patterson) – Minot State University
Daniel Luty – Campbell University
Danny Luty (American University) – Campbell University
Dario Gamino (James Lick HS) – Waldorf College
David Conte (De La Salle) – Indiana University
Davion Jeffries (Broken Arrow) – Oklahoma University
Destin Summers – Fresno State University
Devan Turner (Dixon) Oregon State
Devin Reynolds – Oregon State University
Dominic Borelli (Woodlands HS) – University of California Fullerton
Dominic Kastl (Gilroy HS) – Cal Poly
Donnovan Fontillas – Menlo College
Doug Medrano (San Jose Academy) – Stevens Institute of Technology
Dylan Crawford – Sacramento City College
Dylan Martinez – University of Minnesota
Emilio Saavedra (Modesto) – Old Dominion University
Enrique Green (Mission San Jose) – Chabot College
Eric Yang – Northwestern University
Garrett Kappes – University of Maryland
Geoff Doss (Los Gatos HS) – Cal Poly
Gilbert Valadez (Pittman) – Luther College
Gilbert Valdez – Luther College
Hunter Collins (Gilroy HS) – University of Michigan
Hunter Rehbein (Palma HS) – South West Minnesota State
Huy Nguyen ( ) – San Francisco State
Isaac Suarez (Dos Palos) – Luther College
Israel Saavedra (Granite Bay) Old Dominion University
Issac Rangel (Firebaugh) – North Dakota Wesleyan
J.T. Baumann (Dublin HS) – Ohio Wesleyean
J.T. Stinson – Cal Poly
Jack Bass (Robinson) – University of Minnesota
Jack Creamer – Old Dominion University
Jack Hogan (Los Gatos HS) – San Francisco State
Jack Ramalia – Stanford University
Jack Tangen – Lindenwood College
Jackson Redhair – San Francisco State University
Jacob Clausen (Newark) – Chabot
Jacob Donato (Logan) – New York University
Jacob Gardiner (Justin Sienna) – Emory Riddle University
Jacob Macalolooy (Logan) – Columbia
Jairo Rodriguez (Salinas HS) – University of North Carolina Greensboro
Jake Smith (Newark Memorial HS) – Appalachian State University
Janik Santana (Prospect HS) – New York University
Janik Santana (Prospect) – New York University
Jared Luty – Menlo College
Jared Prince (Palm Harbour) U.S. Naval Academy
Jason Welch (Las Lomas HS) – Northwestern University
Jay Cepeda (Corona Centennial) – Grand Canyon University
Joey Abbate (Central Catholic HS) – Duke University
Joey Martin – United States Coast Guard Academy
Joey Moita (De La Salle) – Columbia University
John Andrade (Irvington) – San Francisco State
John Hall (Palo Alto HS) – Boston University
Jordan Jiminez (Heritage) – Colorado State Pueblo
Jordan Sepeda (Natomas HS) – Serra College
Joseph Fink – United States Military Academy Westpoint
Josh Kim – Harvard University
Joshua Saunders – Cornell University
Jovan Villalobos (Allisal HS) – Grand Canyon University
Kai Kramer (La Costa Canyon) Drexel
Kaleio Romero ( Oakmont ) – San Francisco State
Kevin Hall (Palo Alto HS) – Drexel University
Kobe Lepe – Chadron State University
Logan Gioffre – Cal Poly
Loranzo Rajaonarivelo – George Mason University
Lorenzo De La Riva – North Dakota State University
Lorenzo De La Riva (Folsom) – University of California Bakersfield